A clean and pleasant workspace is a must in the business commercial world. If you own a business or run one in Denver or anywhere in the country, then you should know that a clean work environment is one of the non-negotiable aspects of running a business.
Whether it's a retail store, office building, or a warehouse, a clean and organized workspace doesn't just provide a safe and pleasant environment for people. It also reflects the image and quality of the company.
Hence, janitorial cleaning services differ from commercial cleaning services. The former provides smaller everyday cleaning tasks such as vacuuming of the carpet, while the latter provides bigger cleaning jobs did a few times a year, such as deep cleaning. Many, if not most commercial cleaning companies provide janitorial services.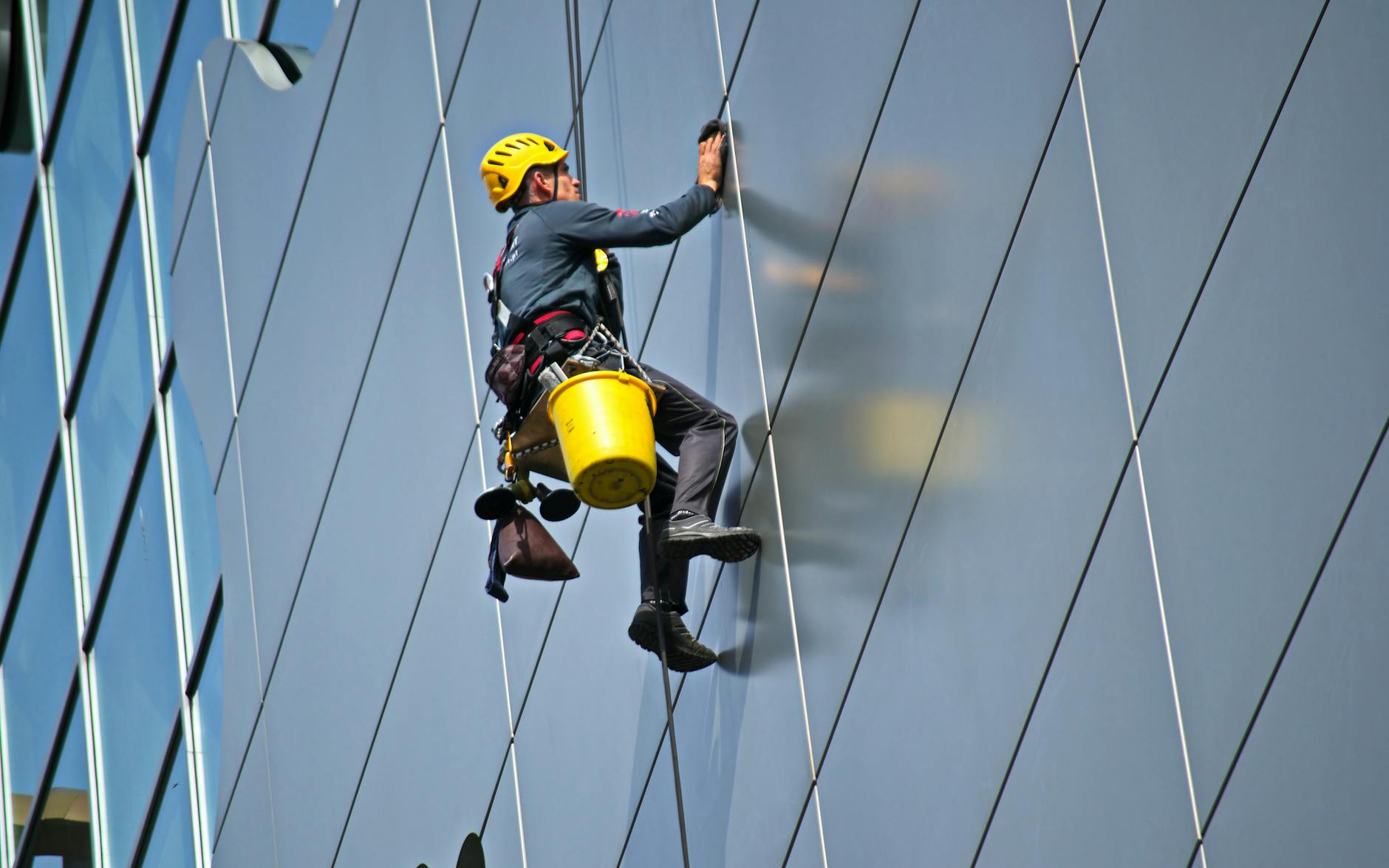 The importance of commercial cleaning for your business. (Image Source: Pexels)
About Commercial Cleaning Services
As said earlier, commercial cleaning is more on bigger cleaning jobs that are not needed on a frequent regular basis. Most companies hire commercial cleaners for one-time jobs or a few appointments per year.
Commercial cleaning services usually include:
Thorough carpet cleaning
Hard surface floor cleaning
Tile and grout cleaning
Power washing of the exterior of the building, walkways, etc.
Window washing
Furniture and upholstery cleaning
For big cleaning projects, such as power washing and upholstery cleaning, you can contact these companies. So what makes janitorial services a must-have for your company?
As said earlier, janitorial cleaning involves smaller everyday tasks to keep your workspace clean and well-maintained. This ensures a workspace that is conducive for people to work and do business.
Cleaning Schedules
Cleaning companies schedule their work based on their clients' needs. This could be daily, weekly, or bi-weekly. Professional cleaners are highly trained to handle various cleaning products and equipment and minimize the risk of cross-contamination.
Daily cleaning is especially important for:
Restrooms (cleaning, disinfecting, and restocking of restroom supplies)
Breakrooms, pantries, kitchens (cleaning sinks, countertops, tables, chairs, refrigerators, etc.)
Dusting work surfaces (desks, equipment, furniture, walls, etc.)
Carpets (vacuuming)
Floors (sweeping, mopping, vacuuming, scrubbing, using brooms, etc.)
Emptying trash bins (garbage disposals)
Types of Professional Cleaning Services
Before hiring professional cleaners, it is important to know the different types of professional cleaning services available and understand what to expect from the cleaners.
Building Maintenance
Building cleaning and maintenance is pretty standard. This includes daily cleaning of floors, restrooms, vacuuming of carpets, dusting and wiping desks, window and wall cleaning, breakroom or kitchen cleaning, trash removal, etc.
Also, different facilities and institutions may have their own specific and expanded cleaning needs, such as medical and healthcare facilities cleaning, education institution cleaning, industrial cleaning, or construction cleaning.
For Medical and Healthcare Facilities
Medical and healthcare facilities can be found anywhere. These places accommodate the sick or those who seek preventative care. Thus, keeping it clean and sterile is a must to prevent the spread of disease-causing bacteria & viruses and cross-contamination.
It will keep safe for everyone, from patients, doctors, nurses, and other staff. Professional cleaners go through special training to provide the right cleaning services for places like these.
Educational Facilities
Whether it's a school for little kids (child care center), high school, college, or university, having a safe learning environment that is free of sanitation concerns is a must. These places have several hands potential bacteria hazards, such as doorknobs, shoes that track dirt, etc.
Professional janitorial cleaning services are well trained and equipped to handle special cleaning agents and techniques. This is carried out to fully clean and sanitize these learning spaces and ensure a safe environment for students and educational staff.
Industrial Facilities
Industrial workspaces in Denver and in most places of the country feature various equipment and machines that are used daily. Thus, industrial cleaning services have to ensure these workspaces are clean, safe, and conducive for people on the job.
Also, machines may require special cleaning and maintenance, and professional cleaners can do just that.
Construction Site Cleaning
Construction sites are some of the "roughest" places for cleaning. Professional cleaners trained and well-equipped to clean after these construction sites, especially after electrical and plumbing, framing, etc.
Construction site cleaning can be completed either before or after sheetrock installation. They prepare the area for the final touches of machinery, furniture installation, painting, lighting, flooring, etc. Also, they perform final cleaning once the construction is completed before homeowners or tenants move in.
Common Equipment Used by Janitorial Services
The cleaning equipment used by the professional cleaners varies, and can be classified into:
Lightweight cleaning equipment
This includes broomsticks, mops, buckets, scrubbers, window cleaners, etc.
Heavy-duty cleaning equipment
This includes vacuum for carpets and floors, floor buffers, floor polisher for marble floors, etc.
Transporting equipment
These are small carriers used by cleaners to move small cleaning tools, or large carriers for transporting larger and heavier cleaning equipment
Advantages of Hiring Janitorial Services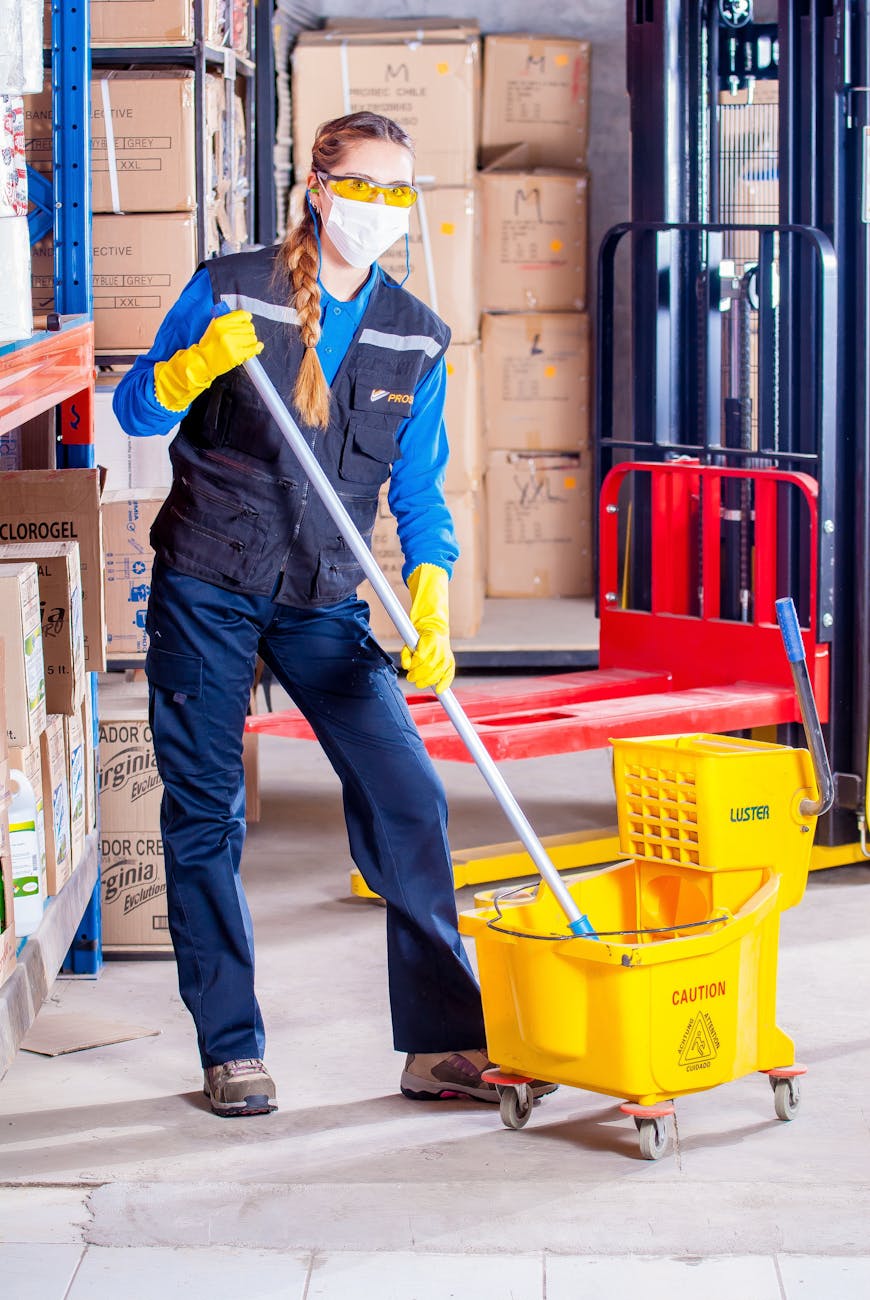 Why do you need to hire commercial cleaning? (Image Source: Pexels)
You spend all your precious time and resources in building and running your business. Chances are, you don't have the time, equipment, and personnel to do the cleaning for your workspace.
That is why it is always better to hire the services of commercial cleaning firms for their janitorial services than to hire in-house utility personnel. Some of the best benefits of their services include:
Schedule for the cleaning activities
High quality and adherence to safety and security
Inspections for the services
Use of the appropriate cleaning products and industrial-grade equipment
Highly skilled cleaners and supervision
If you want a consistently clean and safe workspace for you and your employees in Denver or wherever you are based, then you should employ the services of janitorial companies. They can make your spaces more organized, neat, and maintain an inviting environment for your loyal customers, potential clients, and business partners.
Most commercial cleaning companies offer janitorial services. That means they can also work for your commercial cleaning needs, such as power washing, window washing, upholstery cleaning, etc.
Hire Our Janitorial Cleaning Services
Make your business or commercial space look presentable. At Summit Maintenance, we can provide quality commercial cleaning that you can trust. We provide our services in Denver and its immediate surroundings.
Our unique value proposition is the Summit Advantage, which sets us apart from other cleaning services in the market. If you would like to learn more about our services and how we work, you can see our FAQs here.
---